DAAWN offers two different workshops to help you learn how to implement holistic land practices wherever you are, whether in an urban landscape or on your own large-scale farm or ranch.
Set yourself apart from others in the industry and learn how Holistic Management can restore your land, provide food to your animals, save water, benefit generations to come, and so much more. If you have questions about these learning opportunities or about tailoring a learning experience specific to your needs, please reach out to us here.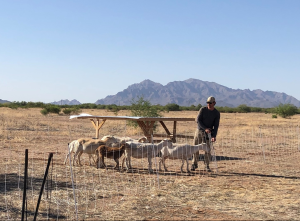 Join us for a tour of the demonstration site, showcasing several different land management practices, with particular emphasis on animal impact, implemented to create a thriving ecosystem derived from thoughtful resource management. The demonstration site is located in Red Rock, Arizona, just off Interstate 10 between Phoenix and Tucson. The demonstration site is an ever-evolving story of transforming regenerative agricultural practices on an active farm and ranch. During your visit at the DAAWN farm and ranch, you will see firsthand how to implement holistic land practices on your own property. These practices include:
High Density Grazing Using Sheep, Cattle, and Goats (coming soon)
Thermophilic Composting Methods for Biological Soil Amendment Creation
Production Market Gardening Strategies
Native Plant Identification for Restoration
On-Site Farm Store, Featuring Local Produce and Goods (coming soon)
Please wear closed toed shoes, a hat, sunscreen, and bring water and a friend!